The Greenway Girl
Dec 30
[video]
Self-Service Garage: Automotive Oasis for Do-It-Yourselfers -
This one's for my son.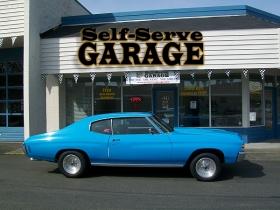 "I brought my 1st car in 2003. A few months later, I crashed in a very weird chicken accident that caused a four car pile up. Thankfully, we survived. It's never let me down. It may not be the sexiest car, but I don't think I could have handled se" —
A Woman's View of The Dodge Avenger
Monday Money Minute: 10 Resolutions for a Frugalosopher
The Greenway Girl is excited to introduce our newest weekly feature - Monday Money Minute, by author and fellow blogger, Cassandra Gardner.
Known most of her life as simply "the cheap one," Cassandra Gardner has spent a lifetime making a dollar out of fifteen cents.

Today, as a professional frugalosopher, she spends her time showing others how to save money and live well while doing it. And live well while doing it!

Her book, Frugalosophy is due out in early 2012.
10 Resolutions for a Frugalosopher

We all make new year's resolutions that we fail to keep. We promise to work out, to diet or to quit smoking. Some of our resolutions are difficult to keep, but saving money is not a difficult endeavor and it is one that can be done little by little. Here are some resolutions you can make to learn to live more frugally.

Get the Sunday paper every Sunday and clip coupons. There are so many savings to be found in the weekly paper and it is throwing money away not to take advantage of them.
Don't assume a deal is a deal just because it says it's a deal. Many things that say value or bonus are really not. Sometimes they are more expensive than buying the item separately.
Don't hesitate to negotiate prices. Flea markets are not the only place that you can haggle! Cable and cell phone providers will sometimes offer deals if you ask. Even Wal-Mart will reduce the price of an item if there is even a small defect. It never hurts to ask. Don't be embarrassed to try to get the best deal possible.
Don't carry cash! Carrying cash is the easiest way to spend money without even noticing. Even I am guilty of scratching my head in amazement that I blew through $30 in two days without knowing why. That's why I always try not to carry cash!
Comparison shop. If you know that you want something, don't assume that the sale price you see in a store's ad is actually the cheapest price. There are multiple places to check before you can assume that is the best price. Sometimes you will be surprised at how different the prices can be.
Plan your monthly menu. By planning ahead, you can make a monthly grocery list which will eliminate the need to be in the grocery store two or three times a week. Fewer trips to the grocery store results in less money spent. We all know that every trip to the grocery store results in purchasing items we may not have purchased otherwise.
Watch your grocery store sale ads. There are often really great deals advertised and when you combine coupons with some of those deals, you can find yourself eating for next to nothing! You can plan your monthly meals around the sale items!
Curb your spending. If you have a book or movie habit, try the library for both books and movies or the Redbox for movies. There is no need to buy something that you are only going to use once or twice. If you have a passion for designer handbags, try to cut you purchases in half. If you buy two or three a year, cut that down to one. Somehow, cut out some of your unnecessary expenses.
While shopping, ask yourself two questions before buying anything. Will this item make me happy six months from now? Will I use this within a month? If the answer to either of these questions is no, walk away!

Don't deprive yourself or your family of enjoyment or necessities simply for the sake of saving money. I am frugal, but I like to enjoy my life. Don't become so frugal that you are a miser. There is a big difference between being cheap and being frugal. Don't sacrifice happiness because you didn't want to part with your money!

What are your new year's resolutions?
(Source: frugalosopher.com)
[video]
Sometime,words are not necessary…
Jeep Wrangler (by CiprianMihai)
(via givemecars-deactivated20120319)
Over the River and Through The Woods…will your car make it there?
Before you hit the road for the holidays, follow these simple tips to get your vehicle in tiptop shape before setting out: to keep your car and family safe.

Tires –
·         Pressure - Check to make sure your tires-including the spare-are properly inflated and have been recently rotated. Look for the recommended tire pressure on the placard on your vehicle's door.                                                                    ·         Tread - Look for worn-down tread. Place a penny in the tread and if you can see the top of Lincoln's head, the tread is likely too low. Also check to make sure your tires-including the spare-are properly inflated and have been recently rotated.

Windshield Wipers - Check the windshield wipers. If they're worn, change them.

Lights - Take a walk around the car with the lights on. Replace any burnt-out bulbs.

Oil - Check the oil and oil filter and change them if necessary.

Air Filter - Check and replace the air filter and cabin filter if your car is equipped with one.

Emergency Kit - Pack an emergency kit with items that can help you in case you're stranded. A recently released survey found drivers often overlook this important step. In fact, only one in four carries flares or food and water.

Test Your Battery - If your battery is 4 years old or older, you are living on borrowed time. Bring it in to a trusted automotive service and retail provider for a battery starting and charging diagnostic test.


Brakes - Do the brakes squeak or does the brake pedal feel "soft"? Have your brakes inspected, including all brake linings, hardware and hydraulics, if the last inspection occurred more than 24,000 miles or 12 months ago.


I just can't get enough of this little beauty.
Fiat 500 Abarth Esseesse (by Ian Eveleigh)
(via givemecars-deactivated20120319)
[video]
"Wake up curious everyday. And wake up determined to find the answer." — Diane Sawyer
[video]
Dec 23
Today is Good Riddance Day.
Time to say goodbye to any not so hot memories of 2011. What are you looking forward to leaving behind in the New Year?
Dec 18
Santa, is it too late to add this to my list? Includes chocolate. -